Anime Title : Detective Conan the Movie: Captured in Her Eyes
Directed by : Kenji Kodama
Produced by : Michihiko Suwa
Written by : Kazunari Kochi
Distributed by : Toho
My Rating : 5 of 5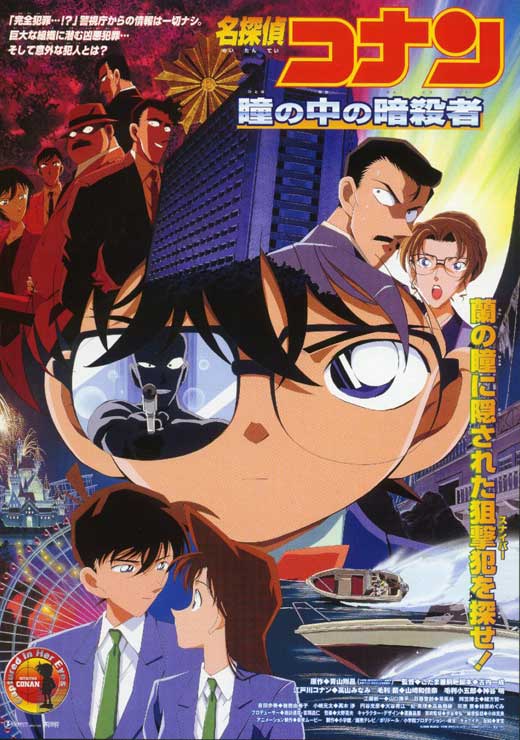 ((http://www.moviepostershop.com/detective-conan-captured-in-her-eyes-movie-poster-2000)
Detective Conan: Captured in Her Eyes is a Japanese animated feature film based on the Detective Conan manga series about Shinichi Kudo, a high school detective who is accidentally transformed back into a kid and named himself Conan Edogawa. This is the forth movie which tells about several murders and attacks to police officers. The last attack is to Sato, which also involves Ran. They both are saved, but Ran loses her memory. Later on, they find out that the murderer is also targeting Ran because she has seen the face of the murderer. After several attacks, Conan finally figures out who the murderer is and once again saves the day.
Boy, it's getting better and better. It stays with its characters – genius idea, engaging conflicts, mind-blowing ending. I'm in love with Shinichi and Conan! And there are more romantic scenes now, which boost my excitement even more! Now I start to wonder, how come someone can come up with such an amazing idea for this anime? I adore him/her! I can't wait to watch all the movies, and I might watch the series as well. I don't know about reading the manga, because there are too many of them, and I guess I enjoy watching it more. "Captured in Her Eyes"... does 'her' refer to Ran? <3
I also posted this review on my Bubblews account.
Check it out
!